Alpin flower garden
400 Alpine flowers varieties
A jewel of nature with 400 Alpine flowers varieties! You really shouldn't deprive yourself a visit to this informative path! For all nature lovers/botanists and those who want to be such, this is a unique experience!

The Kitzbüheler Horn is a genuine natural paradise in summer too. Discover over 400 botanical delights, those which are local and those from other European mountain regions and the Himalayas, or "Zuagroaste" (newcomers).
Free guided tours!
In July and August there are 1x guided tours daily at 11.00 a.m. Meeting point: Entrance to the Alpine flower garden – easily accessible via Hornbahn I and the Horngipfelbahn!
Eva and Toni Hofer travelled ALL OVER THE WORLD to get seeds and plants from the most varied of regions of our world to plant in "their" garden. Since 1985 they have both been commissioned, together with Prof. Dr. Herbert Reisigl from the Institute for Botanics in Innsbruck, with the design and care of the floral area on the summit of the Kitzbühel Horn. Year in, year out they surprise their visitors with botanical features: from A for "Auricula" to Z for "Zottiges Habichtskraut" (Shaggy Hawkweed).
All over the world
Eva and Toni Hofer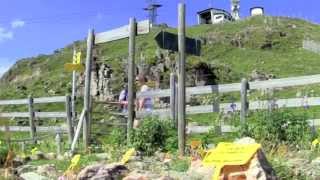 Naturjuwel Alpenblumengarten am Kitzbüheler Horn
What you may find interesting...