Kids' Climbing Path
Only for cool kids!
Even little ones can scale new heights! There's a great new attraction for the whole family on the legendary Kitzbüheler Horn: the kids' climbing path. Steel cables and steps make the path perfectly safe, meaning that all climbing fans and their little mates can take their first steps in the rocky landscape.

Freely based on the motto: Start practising early if you want to become a via ferrata master! It's a great adventure for young and old, up hill and down dale, and even climbing through places such as the Marmot Garden.

And if you manage the 300-metre climb to the very top and reach the Adler-Warte (eagles look-out), you'll be rewarded with a stunning view from the Kitzbüheler Horn, able to see for miles and miles. In short: On the kids' climbing path even the smallest children can become genuine mountaineers!
Kids' Climbing Path - The Facts:
| | |
| --- | --- |
| Data | Facts |
| Length | 300 m |
| Altitude gain | 80 m |
| Duration | 30 to 50 minutes |
| Rock faces | max. height of 2 to 2.5m |
| Secured Adventure Path | steel cables and steps |
Parents have both hands free to help. Sturdy footwear, a good head for heights and surefootedness essential!
Where does it all begin?
The starting points
The climbing path has two access points. Descending from the summit (easy to get to with the B3 Horngipfelbahn) or the other way round (taking the B2 Hornbahn II gondola lift to the Alpenhaus).

1) Start – summit:
You'll find the access point just a few metres below the Horngipfelbahn (B3) top station and you set off on the climbing path heading for the valley and Alpenhaus.

2) Start – Alpine Flower Garden:
Starting from the Alpenhaus (B2) it's no distance at all to the Alpine Flower Garden. Right next to the end you come directly to the access to the climbing path heading to the summit.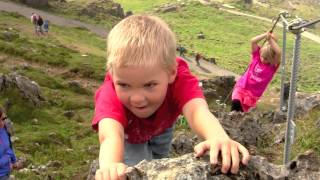 Kids Kletterpfad am Kitzbüheler Horn