Travelling to Kitzbühel: Fly Lufthansa to Munich
Convenient and reliable travel to the Kitzbühel slopes.
We always strive to do our best for you – for our guests. And we want to make life as easy as possible for you. As a skiing or snowboarding fan, you can save time with KitzSki. The advantage for you is that you can get straight off the plane and onto the slopes with the minimum of fuss.

Do you want to hit the slopes as quickly as possible? It's easiest from Munich airport, from where you can reach the Kitzbühel | Kirchberg ski area in just two hours. A shuttle service run in cooperation with Lufthansa will take you from Munich's Terminal 2 straight to your hotel. Our service is perfect.

As a Lufthansa customer you are entitled to a 10% discount on the shuttle service. If you are buying your ticket at the airport, just show your Lufthansa boarding card. If you are booking online, navigate to the relevant Lufthansa shuttle pages and simply enter your flight number.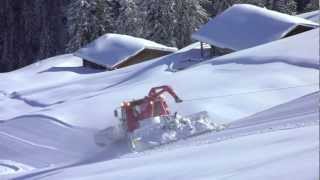 KitzSki Bergbahn Pionierarbeit seit 1928