KitzSki News
Kitzbühel | Kirchberg ski area
Bergbahn AG Kitzbühel invested €26.5 million during the last winter season – the largest investment in the company's history. The Brunn Project was the main feature of this investment programme. This project opened up a whole new world of quality and set new standards for quality and comfort – for both KitzSki and the industry as a whole.
The following projects will set quality standards in the Kitzbühel | Kirchberg ski area in order to improve the comfort of the skiing experience:
Extension and optimisation of the artificial snowmaking system in order to increase snowmaking capacity in the key ski area

Supportive snow cover on existing ski runs on the Kitzbüheler Horn up to the mid-station:
+ Hornköpfl storage reservoir with a capacity of 110,000 m3
+ Snowmaking pipes with a total length of 9 km
+ 55 state-of-the-art snowmaking facilities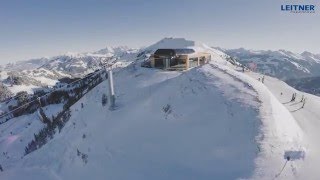 The new Brunn in Kitzbühel
Did you know that:
The KitzSki snow depots on Resterkogel/Pass Thurn, Walde/Hahnenkamm and on the Gaisberg in Kirchberg enable a successful early start to the winter season? Here, we conserve (old) snow and energy for the coming winter.
Thanks to its snow depots, KitzSki can start ski operations on the Resterkogel as early as 22 October and on the Hahnenkamm (Walde) on 5 November 2016 and will thus once again be one of the first non-glacier ski areas to kick off the winter season?
KitzSki provides the best ski runs and 180 days of sheer skiing enjoyment from October to the start of May.
TIP: This coming winter, the new Bärenland skills obstacle course at Bärenbadkogel II (within the Jochberg ski area) will begin offering great fun and challenges for kids and the young at heart. This carefully planned ski park located outside the middle and lower piste sections has a length of more than 500 metres and ensures plenty of variety of movement all the way down to the valley station.

Whether it's the "high-speed" slalom route, a run through gates specially designed for children or a balancing act on "organ stairs" – the kids will be able to test their skiing skills to the core and gain skiing confidence in a fun way. Fun is after all the point, and

part of the fun involves taking a slow trip through the course and admiring the nearly life-size woodcut bear figurines that give the park its name!