Staying up to date in the ski area: Kitz lift-status service
Winter lift operations in the Kitzbühel | Kirchberg ski area.
Chairlift and lift data

Enjoy your journey up to lofty heights with our comfortable cable cars. With our 54 lifts, we are also Austria's largest cable car company. The cable cars offer the highest levels of comfort, up to and including heated seats. They are pleasant, modern and guaranteed stress-free.The best part of all is that this comfort is enhanced by breathtaking panoramic views across the Kitzbühel Alps.

Come and visit us – you'll be amazed!

Important KITZSKI messagesToday | 24.04.2017
Für Sie im Skibetrieb: Die besten Frühjahrsschwünge am Hahnenkamm/Walde

Information
Current state
Show
open facilities
all facilities
State
Name of the lift
Length
Height meter
Operating times
In service
A1 Hahnenkammbahn
2414 m
878 m
8.00 - 16.30 Uhr
Out of service
A2 Ganslern
736 m
224 m
In service
A3 Walde
473 m
194 m
8.45 - 16.30 Uhr
Out of service
A4 Fleckalmbahn
4039 m
987 m
Out of service
A5 Rasmusleiten
400 m
71 m
In service
A6 Märchenwald
150 m
15 m
8.30 - 16.45 Uhr
In service
A7 Starthaus
70 m
10 m
8.10 - 16.45 Uhr
Out of service
A8 Ministreif
132 m
15 m
Out of service
A9 Mocking
225 m
26 m
Out of service
B1 Hornbahn I
1832 m
506 m
Out of service
B2 Hornbahn II
1689 m
388 m
Out of service
B3 Horngipfelbahn
2146 m
688 m
Out of service
B4 Raintal
1960 m
573 m
Out of service
B5 Brunellenfeld
1188 m
387 m
Out of service
B6 Alpenhaus
590 m
109 m
Out of service
B7 Hornköpfl
675 m
216 m
Out of service
B8 Sun Kid
37 m
4 m
Out of service
B9 Eggl
570 m
92 m
Out of service
B10 Trattalmmulde
141 m
13 m
Out of service
C1 Steinbergkogel
1309 m
523 m
Out of service
C2 Ehrenbachhöhe
918 m
364 m
Out of service
C4 Sonnenrast
1067 m
132 m
Out of service
C7 Jufenalm
814 m
317 m
Out of service
D1 Silberstube
581 m
183 m
Out of service
D2 Brunn
1462 m
432 m
Out of service
D3 Pengelstein II
2171 m
565 m
Out of service
D4 Usterkar
311 m
46 m
Out of service
D5 Pengelstein I
2818 m
612 m
Out of service
D6 Hieslegg
1603 m
477 m
Out of service
D7 Kasereck
720 m
221 m
Out of service
D8 Hochsaukaser
1284 m
467 m
Out of service
D9 3S-Bahn
3642 m
137 m
Out of service
D10 Übungslift Aschau
175 m
50 m
Out of service
D11 Sun Kid Aschau
60 m
5 m
Out of service
E1 Maierlbahn
2585 m
687 m
Out of service
E2 Ochsalm
1014 m
300 m
Out of service
E5 Übungslift Reith
596 m
95 m
Out of service
E6 Übungslift Reith
152 m
15 m
Out of service
E7 Schatzerlift (Übungslift)
-
-
Out of service
E8 Gaisberg
1525 m
435 m
Out of service
F1 Wagstättbahn
2468 m
794 m
Out of service
F3 Hausleiten
484 m
89 m
Out of service
F5 Talsen
1461 m
534 m
Out of service
F6 Bärenbadkogel I
1166 m
342 m
Out of service
F7 Bärenbadkogel II
1175 m
375 m
Out of service
F8 Gauxjoch
1242 m
131 m
Out of service
F9 Trattenbach
821 m
312 m
Out of service
G1 Resterhöhe
1510 m
515 m
Out of service
G2 Pass Thurn
234 m
29 m
Out of service
G4 Resterkogel
654 m
193 m
Out of service
G5 Hanglalm
1196 m
349 m
Out of service
G7 Hartkaser
1031 m
263 m
Out of service
G8 Zweitausender
1426 m
474 m
Out of service
G9 Panoramabahn I
2117 m
428 m
Out of service
G10 Panoramabahn II
2144 m
661 m
Out of service
G11 Sun Kid Resterhöhe
105 m
13 m
Out of service
H1 Bichlalm
2254 m
693 m
Out of service
H2 Schneekatze
-
-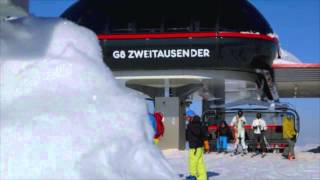 Weltbestes Skigebiet