Snowpark – QPark Kitzbühel
The finest freestyle fun.
Have you experienced the Kitzbühel | Kirchberg ski area as a freestyle stronghold? This is also possible in Kitzbühel thanks to the QPark in the south of the ski area. There is also a mini terrain park and lots more.

Ever since winter 08/09, winter sports enthusiasts have been able to freestyle and jump to their hearts' content in almost all corners and edges thanks to the new Qpark in the south of the Kitzbühel | Kirchberg ski area. The snowpark on the Hanglalm has been hugely popular ever since its very first season and has turned Kitzbühel into a freestyle stronghold in the heart of Austria. It also has large and small kickers, boxes, special obstacles, rails and jibs, offering thrills for every snowboarder and free-skier.


Kitzbühel home base
Freestylers from the Tirolean Unterland, the Pinzgau region in the province of Salzburg and many other guests enjoy the superb facilities on offer and, thanks to DC and Planet Sports, there are some new developments to look forward to this season too...
But there's plenty of good freestyling and boarding to enjoy on the other side of the winter sports area too. The snowpark can easily be reached from Mittersill: simply take a ride up the mountain with the Panorama gondola, follow the connecting path to the chairlift at Hanglalm, and ride this lift right across the park up to the top.

With this bird's-eye view, the first thing you notice is the perfect layout of the individual lines and elements. Aside from classic kicker and rail lines, tailored to all ability levels, an outstanding wooden park has also been constructed, containing up-down boxes, picnic tables and the obligatory tree jib.
Kitzbühel
on Hanglalm
Backcountry
News
There is a new park area on the map in the upper section of the Hanglalm this season. All manner of elements of new beginner and medium lines are set to make the park even more appealing.

The upper and lower part of the park area are also interconnected. Our gap jump has already attracted numerous pros and film crews. When snow conditions allow, there will be a permanent double kicker line here, aimed exclusively at professionals.
Smoothly finding your DC Areas
From Kitzbühel head to Jochberg and from there head to Pass Thurn summit, then take the new 6-seater chairlift, with heated seats, to Resterhöhe and then a speedy trip up on the Hanglalmsesselbahn .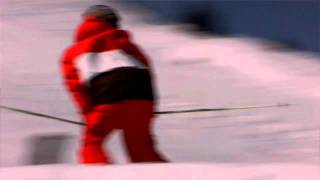 Kitzbuehel Snowpark Teaser 2011/2012