Quick aid and prompt information
A fall on the slopes can easily happen. Mostly, these end up being "somewhat" painful but with no lasting effects.

If, however, injury is suspected, the members of the Kitzbühel piste rescue services will help and lend you their support. Their rapid first care to a highly professional extent and the first comforting words are the concern and duty of the 30 piste rescuers in the greater ski area.

If worse comes to worst, you'll be in professional hands until evacuation by Ski-Doo or helicopter is arranged.
Relaxed through the day's skiing
... with the wide range of slopes for all skill levels on the Hahnenkamm, in the area of the Pengelstein restaurant, by the Kitzbühel Horn, in Jochberg and all the way to the Resterhöhe at the Thurn mountain pass. Take a more leisurely approach to your first days of skiing - always ski in a controlled manner and look ahead - and get back to the valley in one piece.
The infoteam is happy to advise you!
Comprehensive and quick information is a genuine objective of the Kitzbühel cable car services. As the only cable car company, the BAG provides its ski guests with a dedicated infoteam in the greater ski area.

Easy to recognize by their piste uniforms, the men and women of the infoteam are your competent contact partners for all things related to your skiing day.

Did you know that of 170 km of slopes, 69 kilometres are designated easy downhill runs and thus suitable for beginners and families.
60 marked & groomed downhill runs 25 of which or 77 km are classified as medium difficult and just right for leisure skiers!

Carving fun on 450 hectares of skiing area
13 downhill runs with 24 km of challenging slope sections await. True treats for discerning power carvers.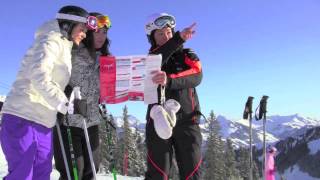 KitzSki Infoteam & Skipatrol